Bezzima Al Jadida is a village in the Al Kufra region located about 12 km from Al Kufra centre in the desert of south-eastern Libya. In the 2012 national census the village population was estimated at 10,000 people. The climate of the region is characterized by high temperatures averaging above 38 °C (100 °F) with no rainfall. As for healthcare services, the Bezzima Al Jadida Clinic is the only facility in the village, and it is struggling with very limited equipment, supplies, and very poor infrastructure.
As the manager of the Bezzima Al Jadida Clinic, Mr. Faraj Hasan, has been tackling one of the hardest challenges ever: running a medical clinic with very limited and poor-quality water. "The water borehole beside the clinic is our main water source. However, the degrading quality of water due to its high rate of salinity, the rate of settling materials, and the change in the water smell show that it is contaminated and may cause health problems".
According to Mr. Hasan, the settling particles cause blockages in the centre's internal water system. The turbidity of the water leads to the malfunction of the pump which carries the water from the well to the clinic, compromising the availability of clean water necessary to ensure good hygiene and sanitary conditions. This can lead to many issues including increasing the risk of infection for patients as well as staff.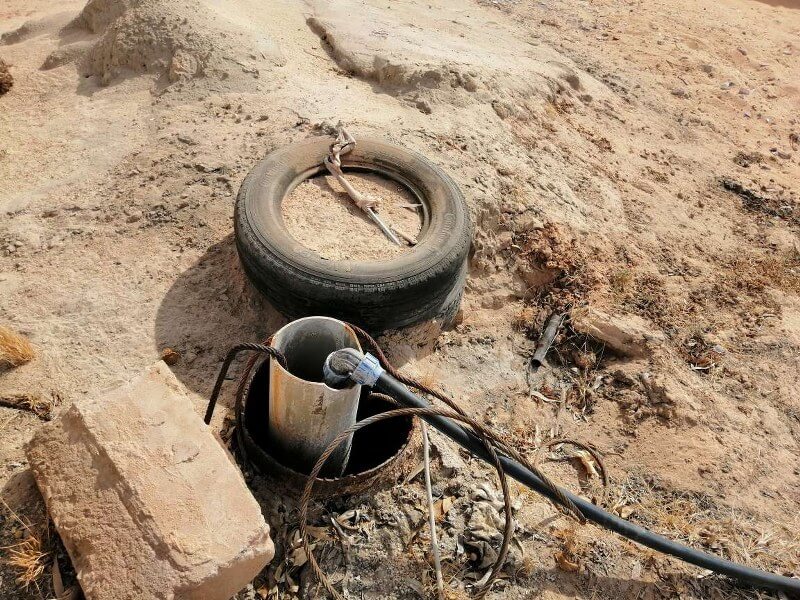 Water, sanitation and hygiene services in health facilities constitute the basic requirements for Infection Prevention and Control in order to ensure quality healthcare, particularly during the COVID-19 Pandemic. Therefore, Première Urgence Internationale (PUI) is implementing a project supported by the Italian Agency for Development Cooperation (AICS) as part of the Baladiyati Programme. The project aims to increase the efficiency of and access to safe drinking water in Bezzima Al Jadida Clinic as well as two additional healthcare facilities in the Al Kufra region. Through this project, PUI seeks to find a permanent solution to the deteriorating water quality by connecting an underground water line from the main borehole well in the center of Bezzima Al Jadida village to the clinic.
Additionally, PUI will provide medical equipment and supplies to the clinic and is developing a strategy to boost the capacity of the concerned staff. This will enable the improvement of the clinic's conditions as well as the quality of health services provided for the Bezzima Al Jadida community. The Baladiyati Programme (Recovery, Stability, Socio-Economic Development in Libya) is funded by the European Union through the EU Trust Fund – North Africa Window and implemented jointly by AICS, UNDP and UNICEF to improve access to basic services in 24 municipalities all over Libya.
This story was written by AICS based on content collected on ground by Première Urgence Internationale
Photo credit: Première Urgence Internationale