In the frame of the AICS component of the Baladiyati programme, funded by the European Union, WW-GVC has been organizing a campaign to raise awareness on communicable and non-communicable diseases, as well as protection principles and gender-based violence in the Libyan municipalities of Al Maya, Al Maamoura, Sabratha and Surman. In June, 28 community mobilizers attended a 3-day training in Tripoli with the objective to introduce the awareness sessions' key messages in the simplest way and to build their capacities in reaching out to the community.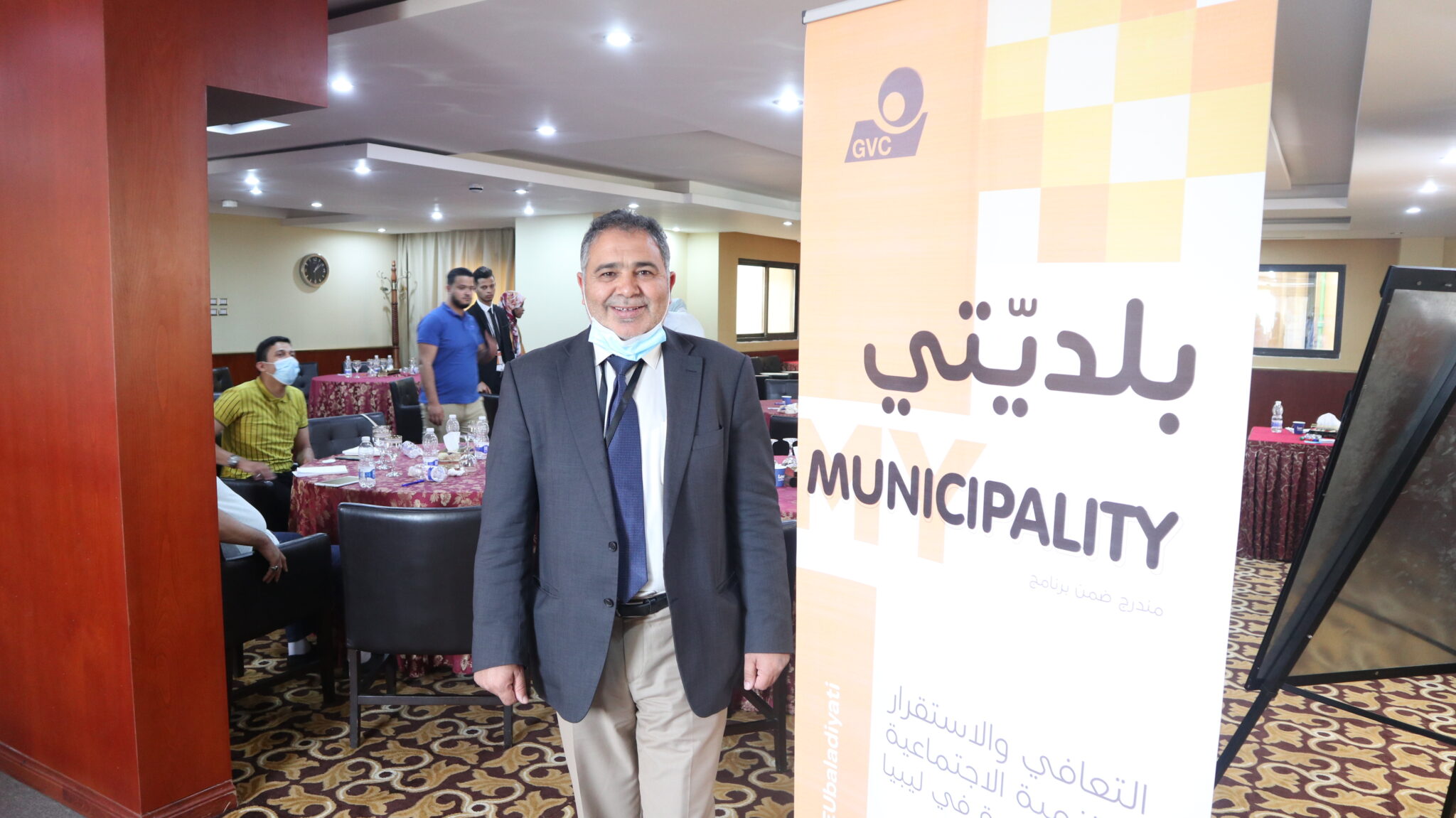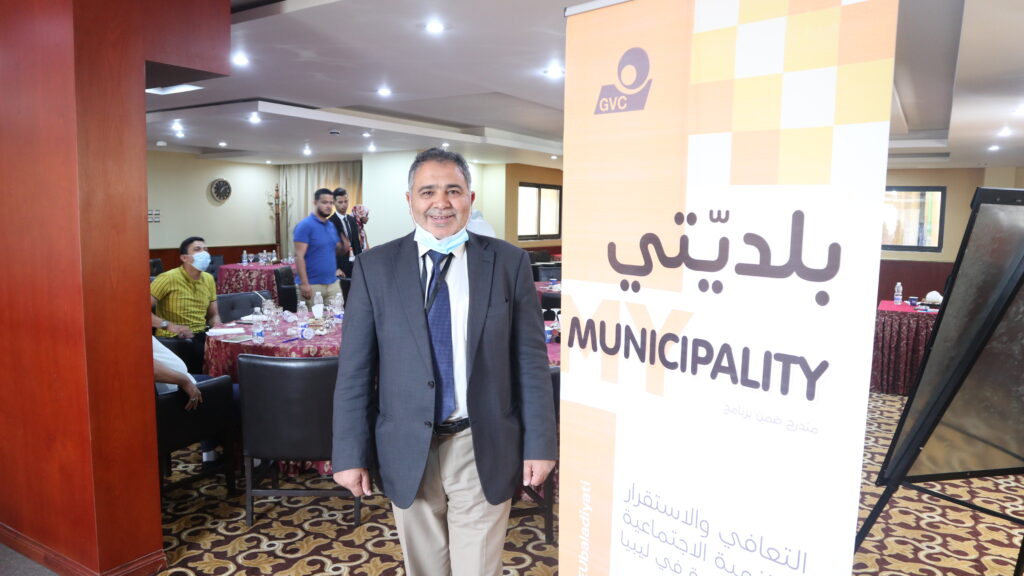 We were very pleased to meet Mr. Abdulgader Dhawi, Professor of Microbiology at Tripoli University and Director of Al-Dhakna medical faculty in Alzahra municipality. Mr. Abdulgader is one of 28 Community Mobilizers, who were brought together by WW-GVC for an initial induction training in Tripoli on 7-9 June. Each Community Mobilizer provided support on the awareness campaign that started mid-June 2021, as part of the EUTF & AICS funded "Baladyati" programme in north-west Libya.
Mr. Abdulgader told us: "As an educator, I always feel the need to spread knowledge among my students and in the community. I have already started with a group of my fellow professors to conduct small sessions on COVID-19 prevention since mid-2020 in the university. The turnout was higher than expected, as people were motivated to learn and eager to access the right information. We tried to widen our sessions beyond the university including messages related to the importance of education for all community groups. Unfortunately, our personal modest means were an obstacle towards reaching wider groups and our qualifications, although very good on the technical level, lacked the necessary skills and information on certain topics".
When asked about the WW-GVC induction training for community mobilizers that he participated in, the professor replied: "First, let me say that I was happy and honoured to meet with activists from other municipalities. As you know, due to the security situation in Libya these past years, we have become increasingly separated. There are fewer opportunities for activists to work together, to share experiences and good practices and to build a social and professional network. This opportunity provided by WW-GVC to gather all 28 selected community mobilizers from the four municipalities of Al Maya, Al Maamoura Sabratha and Surman, was a great idea. Thanks to you, I was able to meet wonderful people from different backgrounds: medical, educational, political, social and even engineering, as well as from different age groups and genders but with the same goal and same vision, which is the Libyan community's best interest!"
Furthermore, he added: "The choice of topics was exceptionally aligned with our community's issues and needs. Indeed, WW-GVC team conducted training on effective communication, public speaking and presentation skills, as well as on the use of the Kobo ToolBox: a data collection and monitoring software. WW-GVC's Health Manager also trained us on some important health topics, such as COVID-19 prevention, Tuberculosis, Diabetes and Hypertension, which are very common in our society. Even more important is the fact that WW-GVC presented very sensitive topics that are highly important yet so underreported in Libya, such as Protection Principles, Gender Based Violence and working with People with Disabilities. There was even a simulation of an awareness session using sign language for those who are deaf! It was very interesting and fulfilling to be there."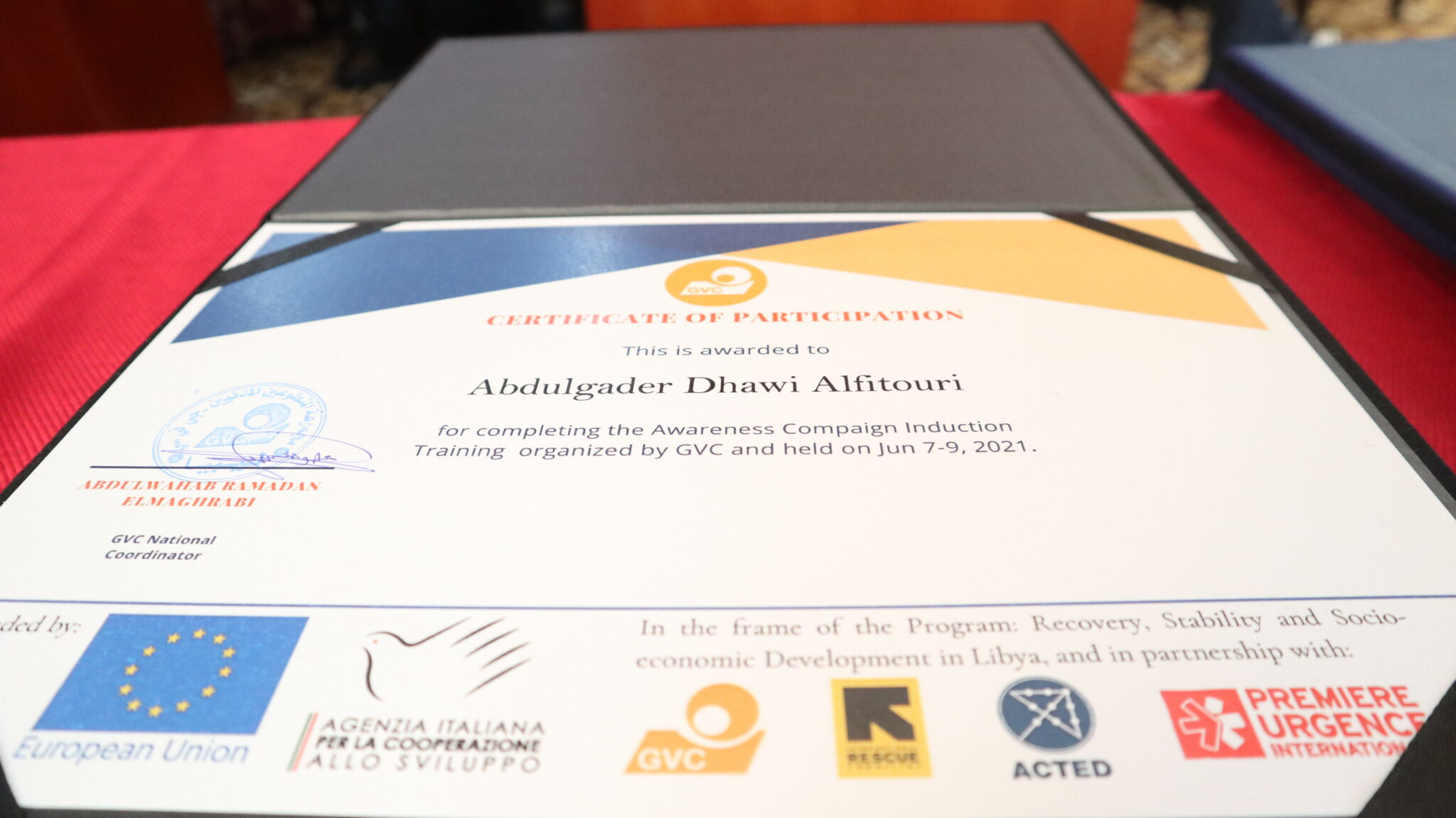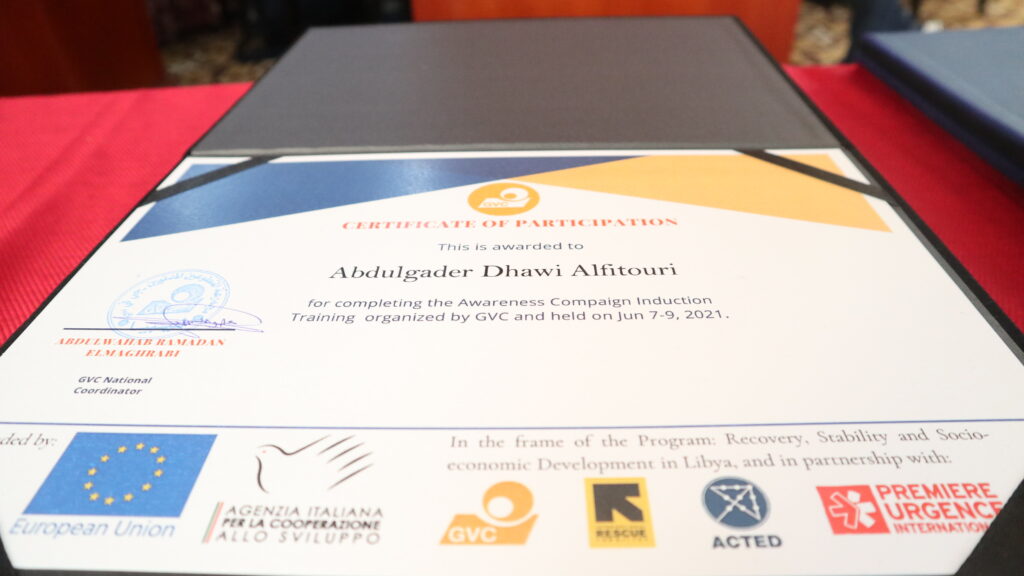 Mr. Abdulgader could not hide his excitement as he recalled some anecdotes that occurred during the training and the different points of view shared by the participants. He explained that "As Libyans, our cultures and traditions can sometimes be an obstacle to approach sensitive subjects with our communities. There are topics we don't even speak about privately with our families. Raising awareness on Gender Based Violence, for example, can be a first step that will encourage people to understand better, be a little more open and finally, why not, change their behaviour! It is a hard process but I would like to thank WW-GVC for believing that our community can improve not just by external support but by internal behavioural change."
The professor finally added: "After this intense training, I can continue my mission of spreading awareness on issues that affect my community. But now I will have the appropriate tools and necessary resources. I have a strong faith that the health and protection key messages we will be delivering will reach every community member in Al Maamoura municipality!"
This story was written by AICS based on content collected on ground by We World-GVC
Photo credit: We World-GVC